Posted:
October 22nd, 2009 |
Author:
Anab
|
Filed under:
Events
,
Speculative Futures
|
Tags:
Acres Green
,
community
,
exhibition
,
fiction
,
permaculture
,
sustainablility
|
We introduce our ideas that formed part of the Power of 8 final exhibition, by taking you on a journey to Acres Green:
"The Eight met at Acres Green by a variety of routes. For some it was an arduous odyssey in which they had to dispense with every uncertainty – yet knew there would be more; for others the journey was spontaneous in the belief that current imperfections would be blown away like a dandelion clock by the power of a new and vibrant reality. Others fell out of the sky via Google Earth. For those of us who actually caught a train, it was a like holding our breath for hours, such was the mounting excitement and frustration as we changed from main line to suburban, then to branch line, getting slower and slower, until finally a relic of the steam age – a tank engine pulling a single carriage – squealed to a halt at an overgrown country siding and let out a long gasp of steam.
A heavy silence hung about us, such as you find in the country on a hot afternoon. Yet there was a smell of damp earth and the bushes gleamed with recent rain. The hard stony soil of the track crackled beneath our feet. Our impression was that this was an interlude between showers.
As we advanced and dwellings became more densely clustered we found that our footsteps were leading us along some predetermined route away from the centre, along more circuitous back lanes. We said nothing; we had seen faces pop up briefly at windows and heads turn in our direction only to turn away again as if we were beneath attention.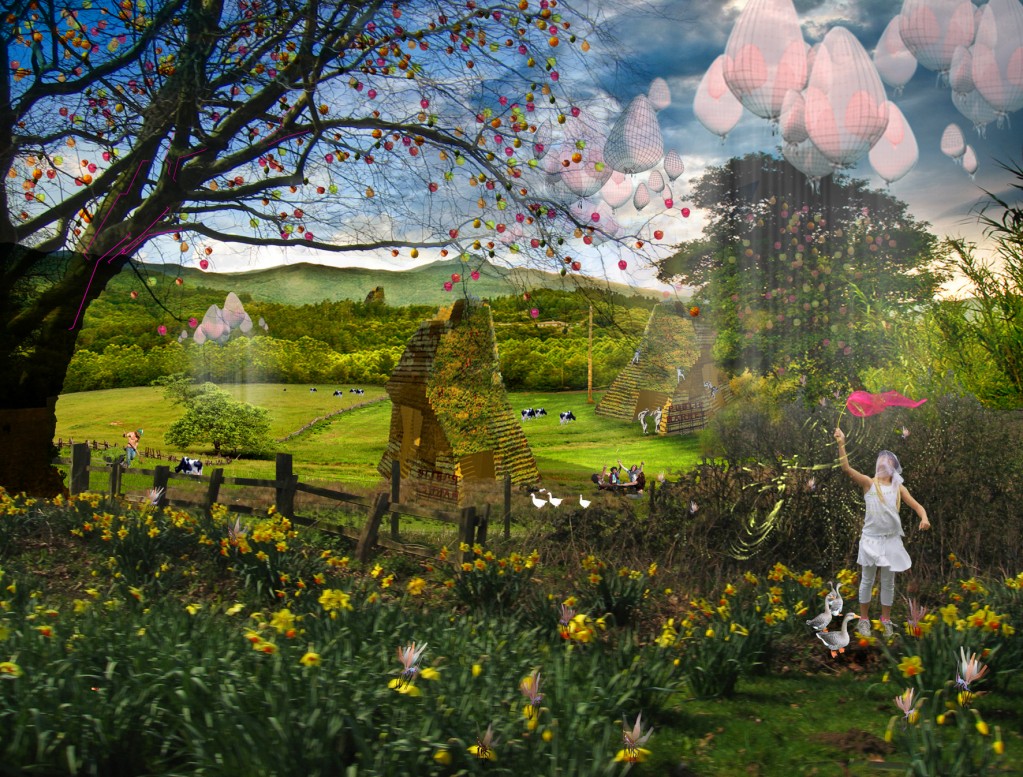 Those winding back lanes at least allowed us to get Acres Green into some perspective. It was immediately obvious that it was not a new settlement. There were a couple of rotting post-war tower blocks in the distance and, peering between the trees away to our right, the crumbling façade of a former dog track with its rusted turnstiles. A side wall at the end of a terrace bore in faded outline a list of accoutrements available for Victorian servants.
But the new had gained the upper hand, and it was not the utilitarian, dehumanised newness of where we had come from – new things everywhere suggested a type of consciousness in which developments and innovations were created by and for 'us', meaning everyone. They weren't just technical things either – strange plants abounded, producing different fruits and even growing in different directions. And they were everywhere – in walls, on roofs, even inside the glass pods of the great wheel that arced over the high street.
Unlike the plants, the weather was not everywhere. Sun, rain and mist prevailed at one and the same time in different parts of the village. We were to discover that it was startlingly well controlled. Standing at the edge of a large permaculture plot we were stunned to see a small low black cloud moving among the different crops spraying them according to their needs before spiralling into a seeming nothingness. Then it reappeared directly above our heads. We pulled up our collars and shrank inside.
A playful episode certainly, and apparently meant in a good spirit. But there was tension there, and we weren't sure how much it had to do with our arrival. Were there different factions representing different philosophies? Or perhaps we had divided opinion about the wisdom of allowing us to visit?"
(What do we find inside Acres Green? How do people live and what do they do? We explain in the posts below, so continue reading…)
---