Posted:
October 19th, 2009 |
Author:
Anab
|
Filed under:
Acres Green
,
Speculative Futures
|
Tags:
Acres
,
climate change
,
community
,
design
,
exchange
,
microclimates
,
social spaces
,
Sustainability
|
(This story continues from the posts above)
A visit to the high street was no less intriguing for us. More amused were we by the immense object standing before us than the otherwise normal offerings of paracetemol and coloured pantyhose. Occupying the full width of the road and towering some three - maybe four - storeys above our heads was what seemed like a floral-clad mountain. Tall, yes. Massive in its proportions, certainly. But it invited us in with a gaping cave-like entrance at its base.
The mountain serves as a cool oasis in an urban heat island in summer, becoming a temporary vertical marketplace.
As we moved closer we realized that it seemed to be ingeniously constructed of long plank-like blocks that appeared semi-translucent where its raw surface was exposed under the foliage. It was warm to the touch even in the cool of that autumn evening. Peering closer to the blocks, we could see a faint yellowish glow from within.
A local person later explained that the mountain was made from transparent blocks, which were filled with a wax-like material harvested from the beamer bees! The wax enabled a more efficient means of storing heat by capturing temperature change when the wax turns to liquid. The blocks were easy enough to assemble and fill by locals and as a result every springtime, the Acres Green residents gather to build the edifice several terraces higher than the year before.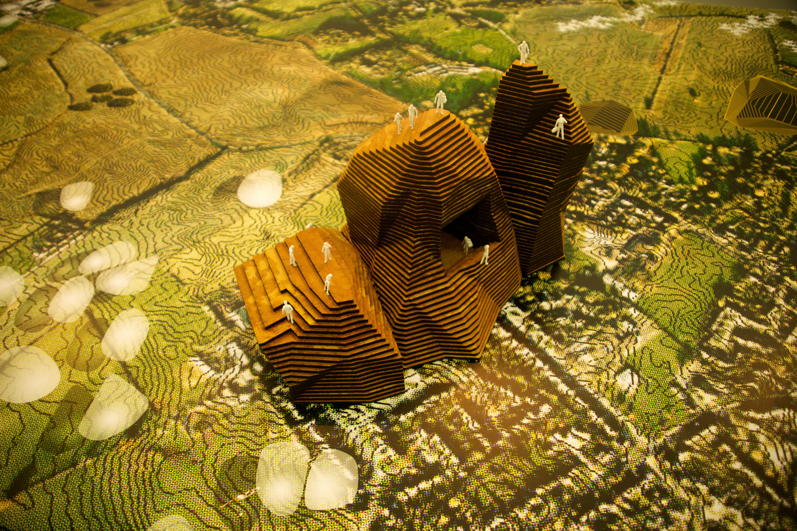 Aerial view of the living mountains in Acres Green
It seemed this mountain had a life for every season - a plant-growing structure in summer, a school for adults in autumn, a venue for clandestine meetings in winter, and a community building project in spring. The mountain got wheeled around Acres Green to suit the different needs of the community - the mountain in transit being somewhat of a spectacle in itself.
And other mountains of slightly different specification were deployed all over Acres Green for moss-harvesting, bird-watching, saunas, therapy rooms, and meeting points for creative exchanges.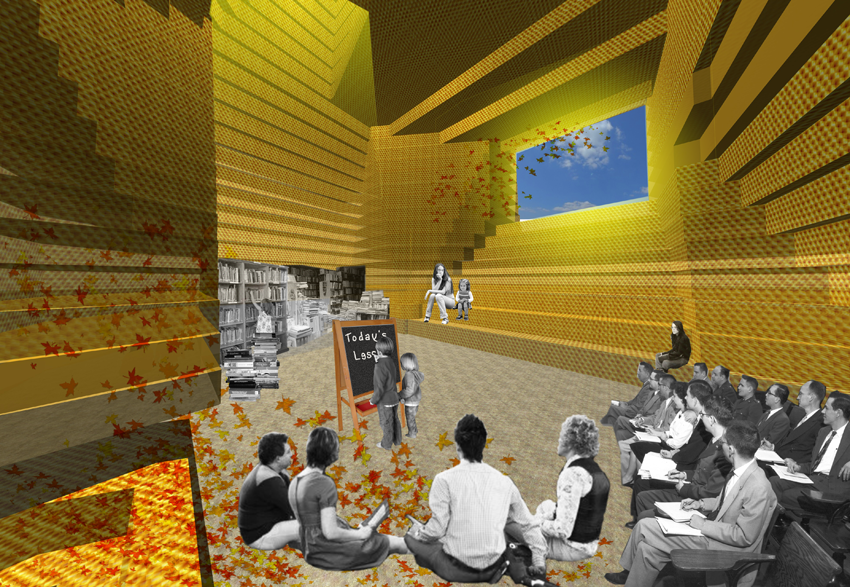 In autumn its warm interiors host the new school term, and it becomes a space for exchange of ideas without hierarchy.
---